Quick intro
Your parents are always suggesting how they would love to meet that sweet girl you are dating so that they can get to know her. Something that you don't know is that these parents have an ulterior motive hidden in their sleeves. What they desire more than everything is to fuck her crazy behind your back.
Meet My Sweet is a site that has older couples who have their ways with girls as soon as they have distracted the man in the videos usually by sending him out on an errand. The site is full of girl on girl actions as well as three-way sex scenes, all taken and filmed in a decent reality format.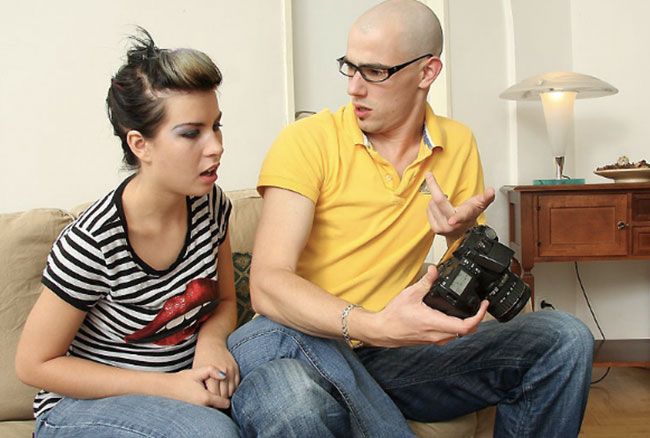 Site design
During my first visit after typing in the URL, I was mesmerised and impressed by everything that I saw on the homepage. The writings on the site are done professionally and in an appealing fashion. The graphic design is all but inviting and although some may see this as not deserving for the site, I thought it made the site look more welcoming and friendlier. At the top is where all the icons are located making navigation around the site a breeze or a walk in the park. Accessible and intuitive best describe navigating through the site.
The search functions work well when you put in normal search parameters such as hair colour, but when the searches are too specific, they usually amount to nought. Another plus is that the site is part of the larger Best Amateur Network giving you free access to other two sites that are also in the brand. These are My Brother's Girlfriend and Rage Story. All in all, I found the site to be very well detailed and informative as compared to other sites that offer the same type of porn.
The content
The site has a minimal collection of around 20 movies. This is attributed to the fact that it is pretty new. All these movies can be embedded in a Flash Player and watched live. It is also possible for one to download them in Full HD Window Media files or in MP4 format 6920k (1920×1080). It is imperative for one to take a minute and enjoy the photo galleries also included on the site that go hand in hand with the movies.
The new guests don't change much and there seems to be a tension in the room between the older couple. The girlfriend offers a solution and asks her boyfriend to step out. She then seduces the older couple into having a threesome with her, which in a way cools their fighting. Towards the end, the son steps in to fight her girlfriend in a compromising position and rather than feel betrayed, he thanks his girlfriend for bringing his parents together. They leave together for what, if you ask me is a thank you fuck for bringing the family together.
Few words
The bonus sites and videos offer much more than Meet My Sweet offers. It is an awesome site but one that is lacking in content and in the end, might be its sinker. Other than that, the few videos and photos are top notch and the storyline is easy to understand considering the language barrier. I totally recommend any porn lover to sign in and have a taste of what MeetMySweet has for members.
"This website in no longer updated. Please choose another one in the collection of the chicks premium porn sites."
---
OR read more on MEETMYSWEET from other popular review sites.