Quick intro
Megan Sweets is a naughty British girl with the most prized boobs online. She also sports the most impressive body, a combination that leaves you drooling and yearning to touch her. You are treated to a variety of teasers on including nude poses and boob play. The flicks come in great quality full HD form that will make you want to keep watching for hours on end.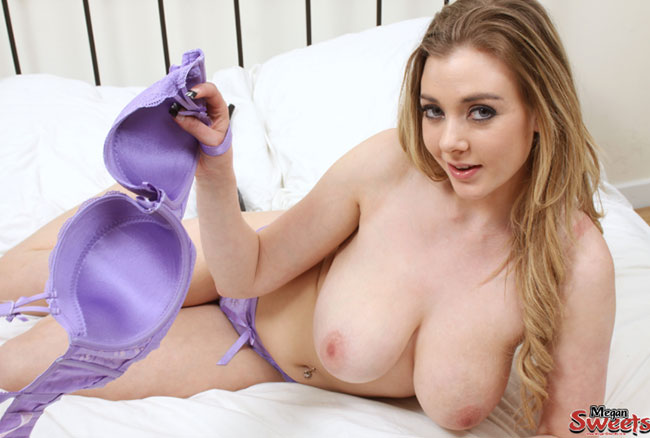 Site design
Megan Sweets is wrapped in impressive blends of red and glossy black. There is a host of user tools that make it easy to check out the content that the British girl provides. I could click on any of the tagged images and sample the actual videos on Megan Sweets. Users are allowed to save their favorite videos and rate them. I could even post comments and share my experience of the scenes featured. Streaming on mobile devices is just as fast and seamless as it is on PC.
The content
Megan Sweets is a gorgeous hottie with a pretty face and great body. Yet, the most attractive endowment that the girl has is her boobs. With 34 H size, you are in for a great boob treat. She knows her strengths and utilises the stage well to tease you to the bone. The model starts off in attractive clothes and lingerie but begins to drop them one by one as the show progresses. You are presented with crisp clear videos of the British hottie as she speaks and whispers to you as if you are the only one to catch her teasing and seductive talk.
I couldn't help replaying the videos just to catch her impressive British accent and her sexy, coarse, yet seductive voice. She says she's dirty. I thought that if what she says is dirty, then dirt must be good. I couldn't help summoning erections every time I checked out this talented model. I particularly loved the scenes in which she comes on with a lolly-stick and presses it between her boobs. She simulates real cock play as she proceeds to lick and suck the cock shaped stick. Yu are also presented with scenes in which the model is joined on stage by a couple of other female performers. You are treated to some scenes that border on lesbian sex but the site has kept the focus on softcore.
There is more than enough content on Megan Sweets to explore 900 videos and over 1200 still photos await you. What I like that there is a variety of videos that focus on Megan Sweets but there are several other performers that join her occasionally. Videos are commendable. They are full HD flicks that will keep you on the edge of your seat. I could stream and download videos as much as I wished. Mobile users have a reason to smile too.
If you like extras on your primary subscription there is enough to catch up with. Check out raunchy sex action that is presented on Boobie Pass Network. You will love the complementary content along with extras that show you raunchy sex scenes too. Check out full HD content on Bitties, Louisa May, Victoria Summers and more. Users can also download the galleries in a zip file provided. There is no download limit.
Few words
Megan Sweets is a softcore porn entertainment site that focuses on boob fetish. You are presented with great full HD videos and a variety of sex entertainment that will make you cum in your pants.

OR back to the page
---
OR read more on Megan Sweets from other popular review sites.