Quick intro
StraponSlaves is one of the top hot fetish porn sites where you can watch sissy males getting banged with huge fake cocks by one or more women at a time. They offer a massive collection of scenes where severe mistresses go deep inside men with toys, fingers and sometimes even bigger things.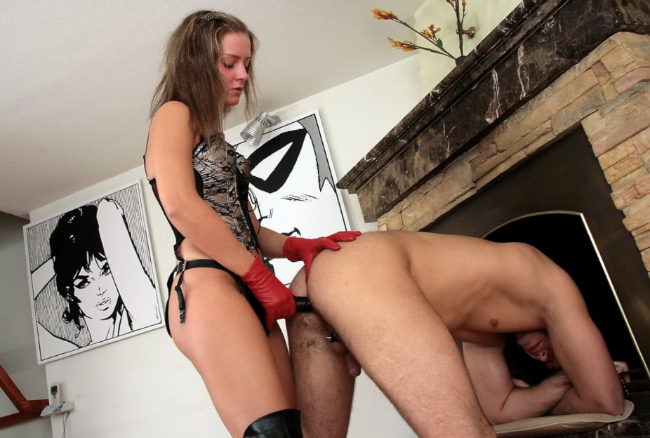 Site design
There's nothing too special when it comes to the layout. It's all kept simple, with many scene previews listed on the left side of the page, many of the most recent updates listed in plain text in the middle of the website, and some more screens on the right side. The recent updates mostly refer to DVDs and they include name and runtime. The preview scenes have at least 4-5 pictures showing highlights and a short description of either the action or the dominatrix. There are no advanced filtering features or multiple category tags to search by, although they cover a wide range of topics with their videos.
There is content on StraponSlaves that's a bit old and may still be at an average quality rating. However, the newer scenes and future uploads are and will be full HD. They may have had a rocky start but the website now operating at industry standards when it comes to quality. All the scenes can be viewed regardless, so if you don't mind the quality on some of them you can watch them for the action. The upload date doesn't matter story-wise. Members get full access with the one month, three months and 12 months membership plans. This includes full support for all devices and 25 bonus websites in the same femdom genre. Multiple payment options are also available so there is flexibility provided for people all over the world.
The content
Most of the women I've seen are mature. Some are hotter than others and very few of them are fresh looking. You might see some seasoned blondes drill a submissive dude's ass or a tall athletic black brunette slapping her sissy male with a huge black dildo across the face. The models are varied and I'm not sure if I should call them amateurs or not. While it's certain you won't find them anywhere else, or at least not in mainstream porn flicks, they do seem quite good at their job, so I doubt they don't have at least some experience in dominating sissy guys and making them deepthroat fat fake dicks.
They started the website a few years back, when HD wasn't easy to come by yet. Most of that content is still available but it's also in SD quality. The mistresses still do a great job of dominating men and the videos run for anywhere between 20 to 40 minutes so there's no real reason not to check that out. If you don't want to download them, you can still sample them in the online flash player. All the newest scenes are finally in HD. Now you are able to fully enjoy watching grown men cry at the mercy of fierce mistresses with huge strapons. The scenes are usually made by using multiple angles and very little POV. Every week new content is added not only on StraponSlaves but also the rest of the 25 sites from the huge network that members get access to.

In Few words
It's just awesome to see how weak some men are and how strong some women can be. These guys may be gay or bi, who knows, but the sizes of those fake dicks cannot make things easy. This is why watching these mistresses as they dominate guys, is like watching the ultimate femdom perfection.

OR back to the page
---
OR read more on StraponSlaves from other popular review sites.