Quick intro
On the StuntCocksHandjobs you are going to enter the world of the cock-shaking mistresses. The chicks in these videos will try hard to please you, and it seems they are pretty good at it: you are going to touch yourself as you watch the videos, especially if you like when a girl talks while she jacks you off. As the site's name tells, there are only hand jobs in the videos, and they keep their word: there are no other niches and actions here, just cock handling and jerking-off.
However, the girls are all different, and they have different techniques. Also, some of the videos feature stories, so there is sometimes a reason for the action. If you join the StuntCocksHandjobs, you gain unlimited access to these hot videos, and you are going to enjoy them if you have a hand job fetish. There are no bonuses here, so you have to settle with the site's own content while you wait for new scenes. Updates come slowly nowadays, but at least the quality is fine.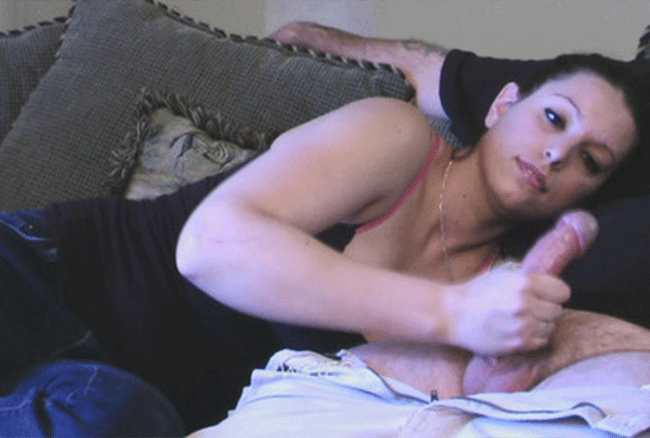 Site design
Well, this is a website that could do use a quick re-build, even by using a simple template. There are way too many texts on the site, and nowadays it's quite strange for a porn site not to offer streamed videos. However, the StuntCocksHandjobs is one site that has no stream. During the tour, you can view some video captions, and download a preview video. That's it, when you have watched the clip, you are actually done with the tour here. When you log in, you will see that the videos are just listed there.
There are no navigation tools or something similar, so you will need to be satisfied with only paginated browsing. Each video is represented by a thumbnail. Since you can't view them online, you won't be able to preview them, so you must rely on that picture and hope that it's worth downloading. The most recent videos are all in HD. However, the files are not big because the guys are going off fast, thus the videos are short. The download speed is quite good, and the videos look great on full screen too, so it's not much problem you need to save them.
It seems the site can't handle in-browser players, like the VLC plugin, so you actually have to download the videos to watch them. As far as pictures are concerned, you will see that most of them are simply video captions, and they are not the best ones either. They are good to preview the videos. We tried to access the site from mobile devices, with not much luck. You can view it, but it's not easy, and it's no responding well, so your best bet is to view the videos on PC.
The content
The StuntCocksHandjobs is a site where you can watch as hot girls give out great hand jobs. The guys in the scenes claim to be "cock stunts", but to be honest, we didn't really believe their story: they are just not so well-hung to be actually good for real hardcore porn. However, their cock is just enough to satisfy their owners, who are always on the lookout for hot girls, eagerly awaiting some practice. This site has a hands-on approach, and when you are a member, you can expect to find here a load of cute girls, sometimes in costumes, serving the one and only cock in the room.
Since the site is focusing on hand jobs, the girls won't get naked, though some nice tits are to be seen, and in a few cases, they use their tits to please that guy. The girls and the guys are all Caucasians, and they seem to enjoy their job really much… at least the guy. As far as their experience is concerned, we would say that most of these guys and gals are amateurs: they are not hardcore porn stars, just horny peeps who wanted to make some quick, not hardcore money.
As you might expect, the videos here are all about hard cocks in the shaking. There are a few minutes of chitter-chatter, but they get on with the show quickly. The girls and the guys get ready and they are turned on properly. It seems that many videos are staged, and apart from the well-hung main star, there are "guest cocks" too, who are playing a role. Some scenes cover a story, like when an inspector visits the girls because she is behind her cock-shaking quota.
Naturally, the old bastard is happy to help out her and make her catch up with the hand jobs. A bunch of videos are shot from PoV, and they are really exciting, especially the latest ones: they are in HD, and the girls are cuter than ever. Some might find the action a bit boring: the girls are just shaking cock, and there is nothing else happening.
Few words
The guys may claim to be stunt cocks, but we know better than to believe them. However, we might believe it better if the girls would say that they are stunt cuties, who are asked to make the porn stars cock hard before the shooting, so they can jump right in the middle of the action. As we watched these nice girls showing off their body, and please the guys' with their hands, we were actually quite amazed.
In case you are looking for some hard hand jobs, then you shouldn't look further, because these girls will keep you interested for some time, and they are really skilful in jacking-off their partner. The membership is not too expensive and, actually, a month is more than enough to explore and download all you like!

OR back to the page