Quick intro
The Daisy Monroe is one of those model sites that presents you with the greatness of a focus-model, but also adds in variety with several other sexy beauties for a fulfilling all round experience. Daisy Monroe is a sexy-hot blonde endowed with big tits and a juicy butt that I found hard to resist. I bet, you won't be moving your eyes from this lovely pornstar if you have all your screws in place.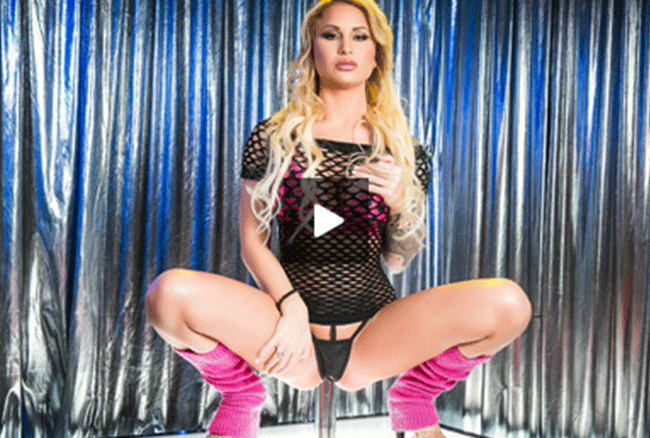 Site design
While there isn't much lavish design on The Daisy Monroe, they chose the simple way that works just fine. It is easy to access content by clicking on the thumbnail images or just flipping through the pages to select what you prefer. The home page is beautifully presented in a dominant purple shade that exudes a feeling of royalty and class. There are some black shades thrown in randomly too. The loading speed is satisfactory. I was impressed to learn that I could also check out my favorite videos on my mobile phone.
The Daisy Monroe platform is optimally tweaked for mobile access. The streaming experience is just as good on mobile as it is on PC. If you like to have bonus sites under your subscription, you can be sure that The Daisy Monroe did not forget that. I loved the variety of content on such sites as Asa Akira, Nukita Von James, Hard Gonzo , Mr. Facial and Capri Cavani. Although there is a download limit imposed, the content provided on The Daisy Monroe is exclusive. Great things come in measured amounts. Isn't that the reason why gold is so valuable anyway?
The content
The Daisy Monroe presents you with the stimulating videos that capture lovely Daisy in hardcore sex action with dudes, or sometimes spreading out for a girlfriend to sample her pussy. You will love her even more when you see her large-size boobs and her sexy bootie. She loves to show you what she's got. I was drawn to the lesbian action that ensues on the platform. The girls also seem to have an appetite for each other's bodies. Catch up with scenes in which the models mouth each other's cherries and flick them until the owners moan and groan with uncontrollable pleasure. And then, there are the nudity shows that left me drooling with desire.
Daisy leads the pack by dropping her covers and sexy lingerie; showing you her large boobs close to the camera. I felt like extending my hand to touch her nipples only to remember that I was watching a recorded movie. Daisy sports a gorgeously tattooed body with a juicy bum that provides sufficient cushion to her riders. Check out the girl as she gets down with her own body is steamy masturbation sessions. If there is a segment I don't miss checking out when I visit The Daisy Monroe, it is the section that allows me to sample the nude bodies of the girls while they pursue self-satisfaction in hot and stimulating masturbation sessions.
Check out hardcore sex encounters that feature Daisy and a number of other models. The dudes are carefully chosen too. I have never seen so many monster cocks in one place. Yet, all these are brought to null by the vast and calm experience of Monroe and her company of gorgeous models. The dudes do their bit; I mean drilling hard and deep, but the models take it slow and calm. It's fun and stimulation for all in the end, anyway.
Videos are available in HD and you can download them as WMV or MP4 and even stream then via the embedded flash player. There are 24 videos that come with a 20 minute playback time for each. If you like to watch your porn in still form, there are 23 galleries with 135 pics per set to sample. Members can download photos as zip files.
Few words
The Daisy Monroe presents users with variety; even as it focuses on the great endowments and skill by the star model Daisy Monroe. Members have access to HD videos and they can stream and download movies in range of formats.

OR back to the page
---
OR read more on TheDaisyMonroe from other popular review sites.