Quick intro
Porn sites are usually better in the far side of Europe and it ain't hard to see why. With their gorgeous girls and beautifully chiseled men out there, Europe has always been the capital of porn. Russia is essentially part of Europe and they have really good looking girls out there (as well as men), so hand it to them to make use of those assets. In Russia, they love to settle with the theme of reality porn. This is rather rampant in the country and you could say that they are a few of the best ones to make such thing really nicely. One of my favorites lie in one of Dirty Flix's many available porn sites.
It is called TrickyAgent. Just the name itself says a lot in terms of deciphering what it is all about. It is about this man who scours the street of some part of Russia and picks up gullible girls to bring to his studio. After a couple of minutes, the awkward scene is then replaced with a start of something dirty and erotic. First comes the usual blow jobs, and then it explodes into full blown amazing, hardcore sex. Of course, TrickyAgent is staged but that does not stop the fact that this unique site remains unbeatable in most fields. Launched not too long ago, May 2013 specifically, the site has won numerous awards and has been nominated several times.
It has been recognized by plenty of people and it has actually trumped a lot of reality themed porn sites. It is owned and managed by the gargantuan porn company, Serious Cash. It is under the Dirty Flix network, home of the really amazing European porn sites. For some people in Europe, this may not be something entirely new, but it still has great and amazing porn content.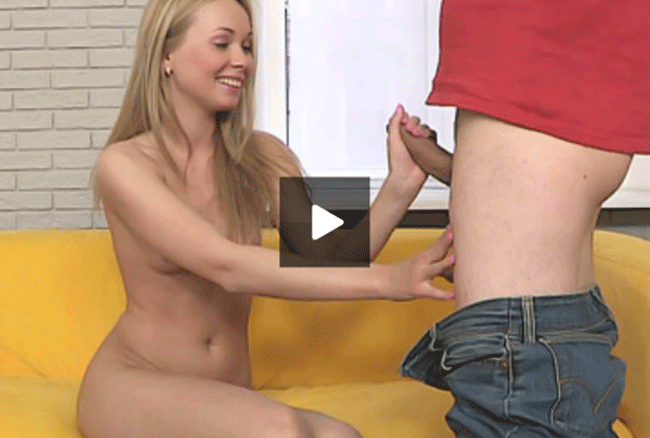 Site design
With its already fancy theme going on, TrickyAgent opted to have a rather simple site design to enhance the quality and attractiveness of their content. Not only did they manage to come up with a minimalist theme, they made sure that the site design does not clash with the site's content. In all honesty, I find the site rather perfect for browsing since it does not look too difficult nor too "trying hard". It remains simple and it remains smooth even after scouring for a little while. The navigation here is pretty much understandable and is simple as ABC.
Then again, there are not many links to be found here as they have made sure that the browsing experience is easy and not too confusing. With the site's great user interface, you could say that they have made sure that the members experience in here works with optimum efficiency. Site layout and arrangement is as neat and orderly as I imagined it to be. There are a load of great features in here that I did not expect at all considering the amount of videos they have. It also comes as no surprise when I think about it, since the site has been around since 2013.
The site basically runs on your membership so you will have to register for one and choose a payment plan. Once everything has been done and everything else is in accordance, you can enter your user name and password to be able to log in and get in the site. With that, you will be free to do anything you want in here and access all the features the site has to offer. The site also houses a bunch of photo galleries that can be downloaded in zip files or saved individually in your devices. As we speak, there are almost 100 photo galleries present and they include 85+ solo photos inside that have a dimension of 1600 x 1200.
This makes them in hi res. Aside from the photo galleries, you will see tons of video caps in here, video thumbnails, and video trailers. These are usually present and available every single time a new update comes up. The newly uploaded videos are found in the main page, along with their corresponding trailer, photo sets, and thumbnails. Aside from that, you get a description about each of them, as well as a time frame. Titles are also included and there are tags that will help you sort them out and find things of similar themes. You can also rate and comment on the videos which will help other people with their choices later on.
Since all contents are exclusive here, rest assured, you get a unique experience every single time you are able to watch something in here. The updates are rather frequent now compared to a couple of years ago and I am glad it is that way. Since the site is under the Dirty Flix network, you can have free access to a bunch of other porn sites that are under it. This makes your membership even better than before. At the moment, there are more than five free sites that you can access as long as you have your account in tow.
The content
The majority of the girls in this porn site are Russian. Rather, they are all Russian chicks. All of them are amateurs but they sure know how keep their presence known in every hardcore scene they participate in. What starts off as innocent curiosity and gullible moments, ends up in something rather hardcore and amazing. Of course, what is amazing too is the quality the site offers its subscribers. I was surprised when I checked out that all their videos are in high definition. It is great that they managed to keep all their scenes in at least 1920 x 1080 resolution.
Few words
If you are looking for gorgeous chicks in hardcore scenes, TrickyAgent will deliver more than that, with their quality and quantity, this site is sure to grow. With the potential it holds, you could say that not a lot of porn sites can live up to the same expectations.

OR back to the page
---
OR read more on TrickyAgent from other popular review sites.