Quick intro
Playboy TV is a top network site that features the antics, adventures and creative porn exploits of Playboy TV. You have a chance to catch the content of Playboy TV, online, in streaming and downloadable videos and photos. Check out hot girls in their debut attempts to become Playboy TV centerfolds and your kinky models of choice. The style is uniquely Playboy TV style. So you are sure of something exclusive.
Site design
I was invited to a home page filled with exciting tagged images of the models in interview sessions and even raunchy sex action. There are enough access and navigation options for the user. The top pane on the home page features models captured in a slide show. There is a drop down menu that allows visitors and members alike to check out, at a glimpse, what Playboy TV has to offer. If you would like to get a deeper experience before you decide, there is trial access that allows you a cross-sectional view of the porn entertainment. I was impressed with the list of categories too. I could settle on a category and enjoy my favorite porn without having to sift through the mountain of content that the whole network afforded me.
Some of the categories that users can choose from including The Rub, Cougar Club, Talking Dirty, All Wives Cheat and Dare Dorm. Members are also given free newsletters that update on the developments on Playboy TV. The videos are exclusive. Of course, you can trust playboy; having been around for so long to bring you these flicks in impeccable HD quality. There is a ton of content to savor on the platform. With over 2000 flicks to watch, there is no reason to want to look elsewhere while you are still subscribed to Playboy TV. The content on the platform loads impressively fast. I was even more impressed to learn that I could check out my favorite movies on the site directly from my mobile phone. The videos are updated two to three times a week.
Don't miss out the
Mofos
!
The content
Playboy TV presents you with over 244 network models. The girls are breathtakingly gorgeous. Their outgoing demeanor and stylish dressing will easily win you over. The videos on Playboy TV are inspired by reality sex entertainment themes. Although you are treated to an impressive collection of both hardcore and softcore content, every sex scene evolves from a well-scripted encounter. I was aroused by the natural progression from seductive meets to the point the models and dudes can't hold it back anymore. Playboy TV also happens to be the place you are treated to a host of interracial sex encounters.
If you prefer watching cute irresistible girls in a live cam, you have a chance to savor the best of Playboy TV. I was aroused by Noelle Monique in the raunchy sex encounter she is featured with a white dude drilling her pussy hole. Nicole is a natural beauty with a flair for stripping and showing you her goodies. Catch up with Alan Campos and get to see where beauty meets naughtiness. She is a curvaceous cutie with starling eyes that can easily make dudes lose focus on the streets. There are over 2350 videos for your exclusive entertainment. Each of the flicks plays for an average of 30 minutes. If you've been a porn fan online, you will know that such playback time comes once and far between top sites such as Playboy TV.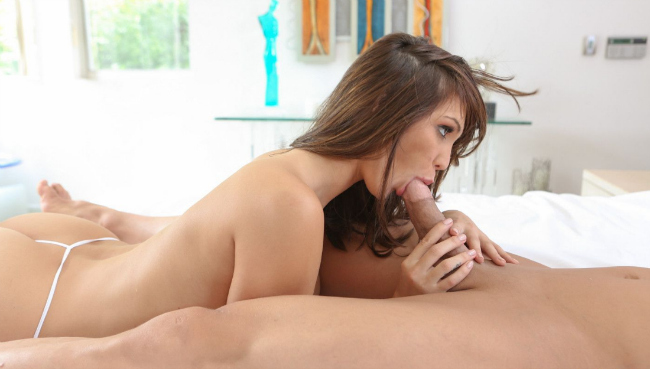 In Few words
Playboy TV is a top glamor porn website and the online face of the famous Play Boy magazine. Videos are available in full HD while the photos are sharp. There is a lot of kinky sex and naughty interviews on the website. When you subscribe to Playboy TV you become privy to exclusive content.

OR back to the page
---
OR read more on Playboy from other popular review sites.