Quick intro
Damon Dogg XXX is some sort of a gay joint where cum worshipper Damon Dogg alongside his de facto fuck mate Jesse O'Toole exhibit what gay sleaziness they harbour. The content galore provided here is altogether a daring bareback display of slutty wantonness only identifiable by fellow gay addicts.
Men do sort of regard semen to be grotesque unless ejected and forgotten. Raunchy cum loving gay architect Damon Dogg is having none of that sentiment. He loves and lives cum, hangs around buddies he regards his group of fuck buddies who drill him hard. His piggy demeanour seems to pay off.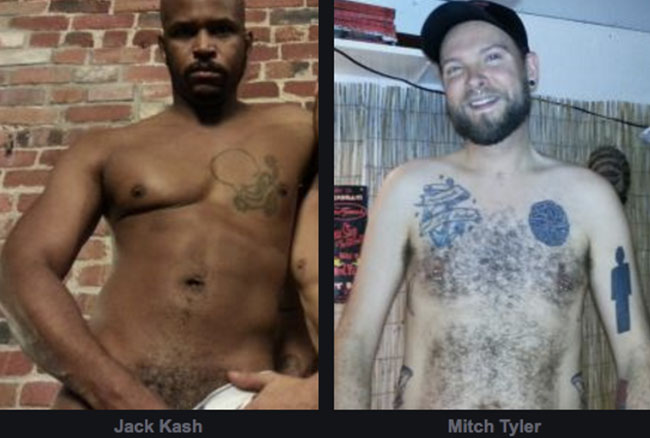 Site design
The presentation of Damon Dogg XXX is not pink and flowery as some would expect from a cum loving bottom gay like Damon. He sticks to the stern-faced presentation indicating his masculinity is not bottomed yet. Black is the theme colour, with fonts appearing in grey, white, or flashing red.
The content is well spread, and appealing. A pronounced navigation bar with white bold fonts guides you through the different menus available. Jumping from page to another and accessing buttons/links is quite easy. A number of features can be accessed such as the much loved Damon's blog putting his gay experiences in writing, a text and video chat segment to catch up with fellow dick and ass lovers, models' list, latest videos, cams, upfront comments, and bonus sites. Access is generally paid attention to by the site's developers.
The content
Damon Dogg XXX is indeed home for the gay-centric studs looking for some roughed up anal, hand and throat sex with every amigo who is willing. With coveted features such as the chat and the blog went cold, the site is vibrant. We would give the webmaster a heads-up for widening the dish a little to include three other bonus sites under the same subscription. Damon thought it wise to revamp the limited Damon Dogg XXX by including Dudes Raw, Cum Pig Men and Straight Guys as other hot spots for dick disciples. Hard fucking episodes in bareback short in amateurish ways tell of rough cock riding marshals these fuck buddies can get.
Damon takes the cock on all four and does not mind anal to mouth at all. He is in for it, and the lucky dudes seem to worship his lean ass and count him as the godsend of the gay world. There are a lot of fuck buddies Damon gets down with including the senior Riley Anders, Mitch Tyler and his hubby Jesse O'Toole. Think of the ebony meathead Jack Kash handing over Damon to O'Toole as a present, before they get down to oral gratification, cock sucking and double penetration of the tightly rimmed ass. The growling beasts pant as they jerk off right into his mouth. Mission accomplished.
The boisterous armature videos are available in MP4 and even WMV downloads as well as streaming. Speeds are good so you don't need to worry about loading. 140 or so videos are available with most of the HDs in MP4 format. As for the pics, you get access to about 140 sets of majorly medium quality. You could download batches in zipping folders. Each of the bonus sites hosts at least 800 exclusive videos for the same subscription.
Few words
Damon is daring and does not use any condoms. This gay fuck bottom is striking hot, confident and mastered his trade quite well. The site is a good spice for your gay cravings. I would recommend the webmaster to add more content to make the site comprehensive and more impressive.

OR back to the page
---
OR read more on DamonDoggXXX from other popular review sites.