Quick intro
Eva Darling is a website entirely dedicated to (surprise surprise) Eva Darling, a webcam model who hails from the Eastern European country of Romania.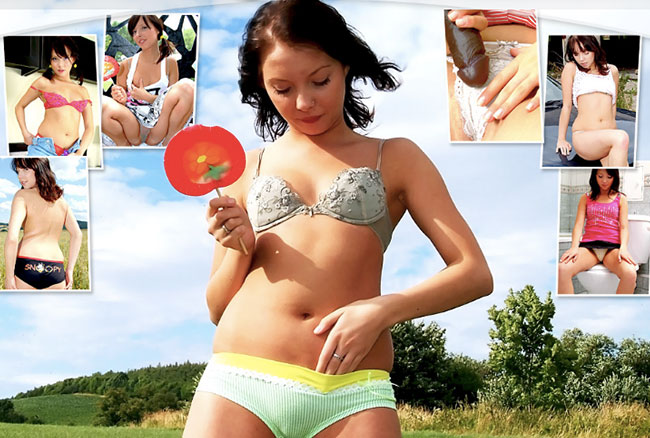 Site design
This little website might be little, but it packs a punch! The interface is lovely and playful and the bright colors make it very fitting for the purpose. The website, in general, looks cute, bubbly and very attractive. It has a very simple interface which makes it very easy to use and a breeze to navigate even for the most inexperienced user. As soon as you access the website you are greeted with great high-quality images of Eva Darling as well as a welcome message which is a very nice touch and makes for a very inviting overall experience.
One disadvantage (but not necessarily) could be the fact that the website doesn't have a mobile version, which isn't to say that it does not work on mobile devices, because it does, but that on a mobile device the site is basically the miniature version of the full-scale desktop version without a layout or menu that is optimized for mobile devices, which means that when you open the site off of a mobile device the menus and images on the home page are quite little, but that is nothing that a little zooming in can't fix.
Becoming a member of Eva Darling grants you access to some other partner sites and the Eva Darling website also features live chat functions and even free membership to adult dating sites for people who already have a membership with Eva Darling. There are no download restrictions on the website so feel free to download as many of the featured videos or images that you like if you decide to save them for later rather than stream them.
The content
Eva Darling is a personal website so it only features one model, sweet Eva Darling herself. The dark haired and blue eyed beauty looks stunning in the images plastered all over the homepage of the website so you immediately see exactly what she looks like but at the same time not revealing all or too much which keeps a little bit of mystery and leaves you immediately wanting more. The website is overall very inviting and beckons you to become a member and Eva Darling is so cute and sweet that the temptation of becoming a member is basically irresistible. At the moment there are only 13 videos on the website that can be downloaded or streamed. Each video is around 10 minutes long and they all feature Eva Darling doing her thing on camera and taking requests.
The video selection is quite limited, which is a little bit discouraging, but at the same time, the videos are very good quality. On the other hand, there are also over 40 galleries with around 80 pictures in each of them so perhaps the Eva Darling website is more suited to people who prefer pictures to videos. Nonetheless, this little website packs a punch! Eva Darling is, well, an absolute darling!
Few words
Eva Darling is a cutesy little gem of a website that should not be passed by. Don't let the narrow selection of videos fool you, this website definitely offers quality over quantity and if you particularly enjoy pictures rather than videos, this website is definitely the place for you!

OR back to the page
---
OR read more on EVADARLING from other popular review sites.