Quick intro
Interraced shows top-quality female models in hardcore sex scenes with black guys who sport enormous cocks. All content on the site is offered in HD, including streamable and downloadable videos and additional photo sets from the main website and the bonus sites that fall under the Elegant Raw banner.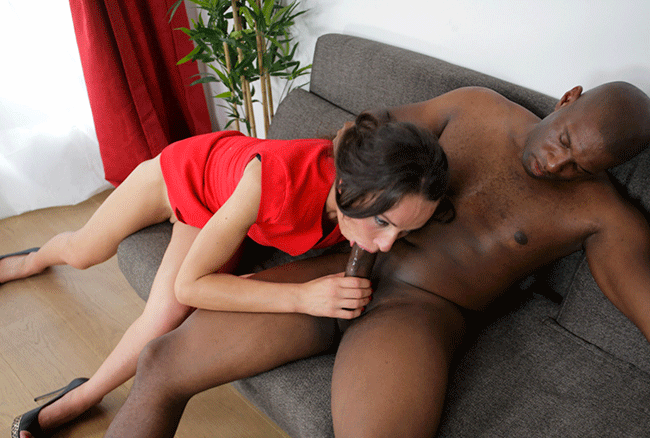 Site design
Interraced has an attractive design, with close-up HQ images of beautiful women taking huge black cock in a variety of holes, mounted on a plain black page background. It's hard not to be tempted by the images displayed on the site. The quality is exceptional and the girls are all beautiful porn stars. For each title, the actresses name is followed by a list of keywords related to the video clip – for example, Blowjobs, Brunettes, Hardcore, Interracial, Lingerie, Big Cock, Shaved, Big Tits… and the list goes on. This is followed by a user rating and a claim of exclusivity for the content.
The content
There are a lot of well-known porn actresses on Interraced, which for me is a sign of quality. The girls that appear on the site are definitely the cream of the crop in my opinion, with fantastic bodies and all extremely attractive. When it comes to the guys, there's no doubt about what you're going to see. The male models are fit and toned black guys with thick hard dicks. That's what you pay for and Interraced delivers. The videos contain some great close-up hardcore sex, including plenty of cum shots. You have the choice of watching all the action at the time or downloading videos for later enjoyment. Whichever option you go for, the quality remains high. The main resolution on offer is 10000K, although you can choose from different options that better suit the device you're using. Downloads are available as mp4 or m4v files.
What I also like about the site is that it contains a lot of photo galleries (over 100 in fact) and, because each gallery also contains around 100 pictures each, that makes for a lot of photos on the site. Although I haven't seen any updates to the site so far this year, Interraced usually uploads between 2–4 new videos and photo sets per week. I hope the lack of updates in 2017 is just because of the usual slowdown in activity after Christmas and the New Year.
As Interraced is part of the Elegant Raw network, which is based in Europe, membership fees are shown on the site in euros, although you will also find the equivalent in US dollars shown on the sign-up page. There are the usual benefits of subscribing for a longer period. As a plus, whether you go for the shortest subscription period of a single month, the 3-month package or one-year access, you will also receive access to content across the rest of Elegant Raw's porn-site database. That means lots of HD videos and 4K photos across a wide range of genres, as well as Live Chat sites. In my experience, anything connected to Elegant Raw's network carries a stamp of quality when it comes to HQ content and multi-platform compatibility.

In Few words
This is a top-quality site packed with beautiful professional models enjoying big black clocks. It offers a lot of bonus content through Elegant Raw and includes plenty of HQ-quality videos and photos for viewing online or on your desktop through fast-working download options. If you love watching girls being pounded by huge ebony dicks, look no further than Interraced.

OR back to the page