Quick intro
JustRightHeight is a dark little spot on the internet aimed at making gimmicky "weird" porn starring little people in an abundance of strange situations. The site claims that "we've all thought about fucking a midget", so why not give into your curiosity and take a peek at what JustRightHeight has to offer?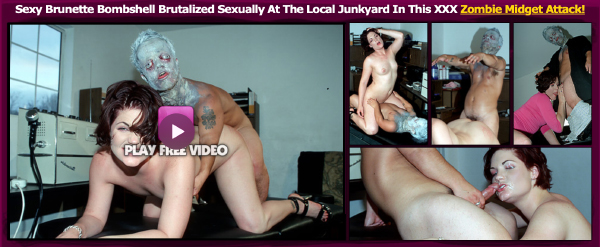 Site design
The site opens onto a dark purple background, with the user's attention immediately being grabbed by the collage of midget fucking photos that make up the site's banner, pulling no punches about what kind of crazy, kinky stuff can be found inside. The 'Troll' logo of JustRightHeight makes for a fun background, without detracting or distracting from the content. Overall the colours and user interface on the site are well configured but still add the 'fun' element it's clear the owners are going for.
The well-proportioned videos come with detailed titles and descriptions, often naming the stars of the show, as well as the set-up and the acts that are performed in the scene. Surrounding the main preview picture there are an assortment of thumbnail sized stills of the action contained in the scene, to really give you a good idea of what deviancy occurs within. The accompanying pictures make it significantly easier for the user to select which video they want to watch, and just adds to the overall appeal of the site.
Membership with JustRightHeight includes membership to the My All Access Pass network, which includes 29 other fetish porn websites. There are also live cam shows available to members on JustRightHeight and other sites on the network.
The content
The videos do have a certain circus air to them, and are marketed as a sort of slide-show, so if that isn't what you're looking for then maybe this site isn't for you. However, the actors and actresses that are involved in these hardcore sex scenes, both midgets and normal sized, love to fuck and the action is an awesome mix of weird and sexy. On JustRightHeight, there are 37 videos available, with an average run time of around 20 minutes each. All of the videos can be streamed in a browser with Flash or can be downloaded in MP4 format.
Accompanying the videos are 66 galleries of photos with around 100 photos per gallery, all high resolution and can be downloaded in zip files for your ease. Some of the biggest names in midget porn star scene on JustRightHeight, including Bridget the Midget and Just Right Jackie. These ladies take full sized cocks, and sometimes more than one! The site features all kinds of material, including gangbangs and interracial group scenes. JustRightHeight also features male midget porn stars as well, fucking both midget and normal sized women.
The site is home to some creative directors, guys who proudly come up with ideas like "Midget Zombie Attacks" and are happy to brag about JustRightHeight being home to "The Most Fucked Up Porn You Have Ever Seen. Period." The odd mix of circus, sex and straight up weird makes the content on the site one of the only places on the web you can see this kind of thing.
Few words
To summarize, JustRightHeight is a highly entertaining fetish website aimed at those that are into or curious about midget porn. It is a site that is not afraid to laugh at itself while still churning out high quality, imaginative and totally exclusive content.

OR back to the page
---