Quick intro
Need that Asian fix that you have been craving for the entire week? You know, that Asian fix that would satiate your hunger for a naughty interaction or two? Well, fret no more. LiveSexAsian is an adult live video chat site, where both members and visitors meet various amateur but dazzling models and porn stars. These models broadcast video feed live from their homes or studios and interact with their visitors in a public or private room via these videos. LiveSexAsian has a wide assortment of models, making it easy for guests to pick out and decide on a specific individual that they would like to get to know or watch. It also makes interacting trouble-free and exciting, much to the convenience of the visitors. In an era where almost everything can be done online, websites like these can be found almost everywhere with just a click of a mouse.
What sets apart LiveSexAsian from these "other" websites is the fact that it's very easy to find someone of your preference and these models are presented based on their appearance, age, spoken language, specialties, video quality, and many others by just simply typing your desired feature and quality on the search box provided in the website. With LiveSexAsian, you can choose between a Basic or Premium membership. Basic members can take pleasure in chatting up with these gorgeous models for an unlimited number of times in the free chat area and optimistically get recognized through the distinctive usernames they come up for themselves – even by these models. Another perk of being a Basic member would be the fact that you will be able to make a personal list of your favorites among the numerous stunning individuals oozing in LiveSexAsian.
The apparent privilege of being a Premium member though, is what you would call blissful and divine, for you will have the opportunity to privately interact with the models. There are these 'special acts' that are listed in the Model's personal information and in order to access all of them, a member will have to be in a private chat room where he could see the model bare it all out for him. If that is not astounding enough, a Premium member also has the entitlement of exchanging offline messages with models and send them surprises in their chat rooms. Fret not Basic members for you will also have the chance to upgrade your membership to a Premium one by just purchasing credits. The folks that want to be Premium members immediately can simply choose that option during signup. Also, if you are more fond of using your phone, not to worry, because you can enjoy the same LiveSexAsian experience anytime by accessing their web app on your iPhone, Android, Windows Phone, or Blackberry.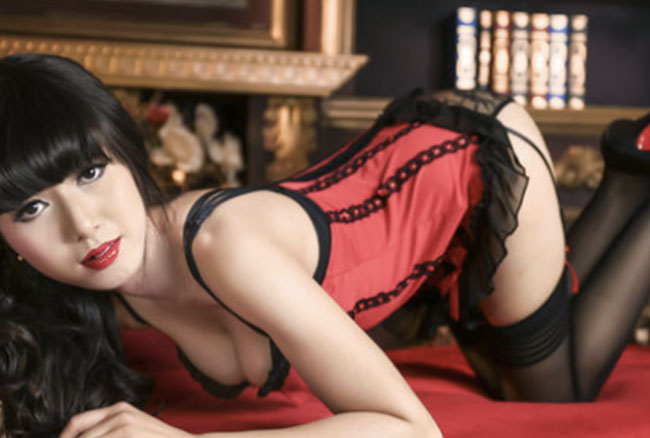 Site design
LiveSexAsian's website is very user friendly and very easy to manage. While other websites make their user's head whirl in confusion, LiveSexAsian possess an uncomplicated and unproblematic web design tailored to make its user's experience even more worthwhile. Its webpage is adorned with different shades of red, making it pleasing to the eyes and the words easy to read. LiveSexAsian features an incredible arrangement of models "performing" live on their respected chat rooms. These models have their webcams or camcorders set up in their respective locations where they present live coverage through the internet. Majority of these models have the option of turning on their audios, so they can be seen and heard at the exact same time making the event even more stimulating for the visitors. Of course, members only need Adobe Flash Plug-in installed in their computers in order to view the camera feeds.
If any of these prove to be a problem, LiveSexAsian has an Online Support Staff that will be in your aid at any time of the day, twenty-four-seven. Moving on, as easy as it is to navigate and familiarize yourself with LiveSexAsian, it is even easier for one to enter a chat room given the simple but elegant layout of the website. Once you enter a chat room, you may begin a conversation with the model of your choice in that certain chat field. LiveSexAsian also has the so-called free area where other members hang about and chat up with other models, who in turn responds in a color different than the visitors. Another element organized by LiveSexAsian for its users is its idea that if the member likes the model he is conversing with, he has the option of moving them into a private room by clicking on "Start Private Chat" if the model accepts to fulfill the member's request during their conversation.
Unlike other websites, LiveSexAsian boasts of its attribute of including the visitors in the virtual fun by enabling the members to activate their own webcam during a private session, where they can interact with the model for no extra charge. This is what LiveSexAsian calls Cam2Cam. Luckily enough, a two-way audio feature is also available for a vast number of models. Done with a chat room? Clicking on the close button on the top-right corner enables you to leave the room safely. Websites like LiveSexAsian are quite popular with the public since it enables users to interact in a one-to-one setting with their preferred type.
The content
LiveSexAsian pride themselves with a towering number of girls online. They may not be famed ladies but they are equally just as beautiful, charming, exquisite, pleasing, and stunning. That is not all, there are also a soaring amount of amateur porn stars that you could come across with when you enter your preferences in the provided search box and because there is a sky-scraping amount of models in the website, it is not hard to take a pick at all. A user can indulge in a model or two or three, if he desires. A member can opt for a high definition video that will heighten his satisfaction and bliss with no problem at all. The more HD, the more you can see.
Few words
All things considered, I think LiveSexAsian is a very fitting commodity for a lot of people who would love to have their quick Asian fix. Despite being a mere virtual outlet, it is graphic, detailed, striking, vivid, and it leaves nothing to the imagination – because it's all there. You won't regret ever signing up for it. In all my years in the biz, LiveSexAsian is something that you will never be disappointed at.

OR back to the page
---
OR read more on LIVESEXASIAN from other popular review sites.