Quick intro
Mythic women, is a site where the fantasy world lover inside you will be most happy. The site deals with a theme which is very rarely dealt with. They dress up sexy and seductive chicks in some sexy and to an extent outrageous dresses and make them ready for your titillation. The site was incepted in the year 2012 and in its short span of time has managed to attain a popularity which not many can. The women will be seen wielding swords and also slinging spears.
Some beautiful princess with be kept captive and that too in their birth attires. They will move and steam up the action using chains as well with pillars. Some of their bodies are splattered as well as tattooed and their fair skin, their bouncing racks, their oozing pussies and their sexy expressions will definitely weave magic upon you as well as your sex craving bone. The download as well as streaming speed is great and the site is easy to move from one page to another.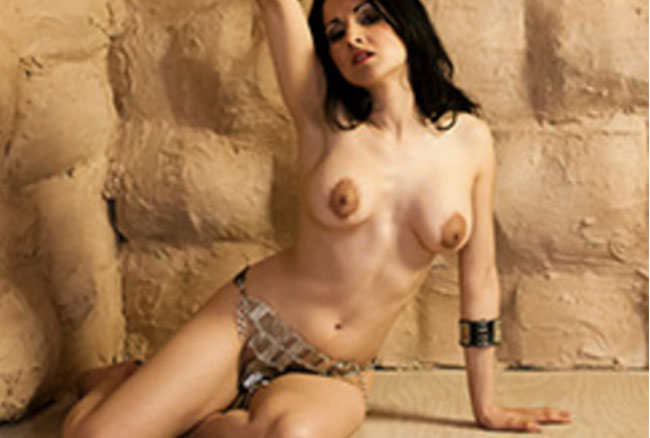 Site design
The presentation of the site could have been better but then again it does suffice. There are some good things and some bad things. Let us start with the bad points. The site seems to have done some hard work to present the site in a unique manner but they have fallen short in some places. I did not find any images displaying each of the listed sets of videos. In fact you do not find any video previews on the home page and in order to avail them you will have to click on a separate link to get access to them. Also the pictures do appear in good clarity but the thumbnails have been presented as thumbnails which are not very big. You will also not find any search engine nor any filtering facilities which is helpful in finding out the videos quickly. Also there are plenty of pictures of their girl models, but none of them have any information about them and neither is there any link which takes to the page where their videos are lined up with their name, pic as well as their stats. Another thing is that there is no variety in the look and background of the pages. Every single page has just about the look. Now as the bad facts are out of the way there are plenty of good things about the presentation of the site.
There are proper menu options displayed right at the top and using that you can just about check out any page of the site. The colour choice is eye pleasing and goes with the theme which is followed by the site. There is a brief announcement from the site given at the top of the home page and going through that you can come to terms of what the site is about especially if you are new to the site. There is also an update section which brings you some of the latest happenings in the year 2016. You will find facts about the happenings which is supposed to take place and also the girls whom the site has incorporated in itself. The membership steps are simple and require you to just enter all your details such as your name, your email as well as your username and a password to set up your account. You can also pick your ideal subscription which goes with your pockets and as that is done, simply send out your request. You will get an instant confirmation about the status of your account and that is from when you will be able to check out all there is in the site.
The details are properly guarded by the adequate security of the site and so you do not have to worry about them being shared or disclosed to anywhere outside party. The payment as per the rules of the site has to be done using your credit as well as debit cards. Plus if you want to make payments using cheque, then the site also gives you that scope. The site is absolutely genuine in its operations and does not believe in engaging in any malware activities. They also boast of its adequate security system and using their assistance you can sort out all your issues without any issues. There are also not many advertisements as well as pop up banners which defy your views and the user-interface is also good.
The content
The site takes a jump into the medieval ages where dungeons, caves as well as chains were popularly seen. They alter that period a bit and give you a world which is mainly run by hot chicks, eccentric as well as revealing costumes. Their girls' collection is unbelievable and with their awesome costumes, you will find them all the more attractive. From sword wielding warrior princess, spear slinging sweet hearts, seductive cave prisoners, buxom barbarian women to evil causing women living in some dark dungeon, the site will definitely help you explore all your deepest fantasies.
These girls and different in their appearance as well as their body parts! Some are curvy than most while some have round and big racks, some have sexy faces while some have a thump able tight ass. These chicks are also super actors and they will be carrying out their roles given to them in exceptional fashion. They solo as well as lesbian soft core cosplay will intrigue you and definitely turn you on. The videos are also superb in their picture as well as sound quality and will make way for superb viewing.
They are at about 1280x720p HD format and they are also of decent lengths. The site allows you to watch them by MP4. WMV as well as AVI downloads as well as steaming them as flash files. The updates are about 2 in one month but they sure make it a constant affair. The pictures as stunning as the movies and even difficult to view tattoos as well as birth marts are clearly visible! They are also downloaded as zip files as well as watched as online side shows.
Few words
Thus the site mythic women, is a site which has everything needed to take you back to a world which many fantasise about. The chicks are hot and when they wear these costumes, they look at the hotter. The subscriptions are cost effective and having an account is great value for your expenses cash.

OR back to the page
---