Quick intro
They call themselves the guys of dick fraternity and the fit studs of the horny men's environment. Whatever name you think is fit for these dicks and cum lovers, reserve it for yourself because the action in the site is more worthy of your attention.
Naked Frat House is the fraternity of gay boys that has managed to secure a Cyber socket award. It has a thick reputation for being the chosen porn camp for surfers. If you are not convinced yet by such a vibe, how about joining the wanton in gay passion at primetime.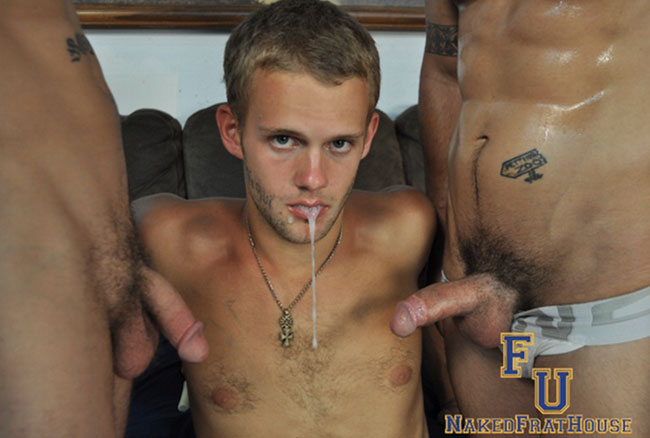 Site design
We love simplicity when it comes to porn websites. That, however, does not mean we don't appreciate beauty when we see it. We feel Naked Frat House broke some rules and ended up delivering something leaner than lean. In this site, colour composition is nowhere near appealing. The snippets on the site look to be boring tiles even though the studs within them are hot. We, however, adore the ease with which you can get from one menu or category to another.
I bet the webmaster sacrificed a lot of aesthetics in exchange for manoeuvrability. So even though they could have done better than this, convenient navigability is quite an offsetting plus. At the bottom of the site, we don't see any fine prints such as copyrights and licenses. You find them as the last items on the side pane in case they mean something to you.
The content
Naked Frat House is a unit of cock lovers. You are sure to find some so-called guys here drilling each other's buttholes, pasting faces with cum and passionately sucking one another's shaft. The experience is raunchy and wild and often culminates into some very wanton solos. The array of models that feature in Naked Frat House looks like they have been carefully chosen. They look very masculine and leave you with a horny dizziness.
You find them built, muscular and chiselled for some good male to male encounters. The few that look slim are notoriously tattooed and lean. Such sexy bodies may leave the bi-curious stud fully gay. It may be surprising that they like their names casual such as one Estrada, the monster dicked duo Tom and Chase, and one ripped Rod. These horny men are not afraid to go on camera to teach you some new techniques of stroking your member. While such pretty boys keep your groin wet and warm, you could stalk more of their mates in live sessions. Live video feeds come as a free addition that links out to the more generic Flirt4Free platform.
More personal encounters come at a premium. If all this comes short of exciting you, why not grab some content for yourself to help you run the week? The site offers some good resolution videos traditionally in WMV formats. Streamed videos tend to be higher in resolution. Videos through the QuickTime platform come at a resolution of 1280 x 720. Flash and downloaded videos only manage 852 x 480 and 640 x 360 respectively.
Additionally, there are pictures for you as well that you could download in zipping folders. However, they are not quite appealing since they are captured through the video cams rather than a standard photo shoot. With a 130 videos gallery that is updated once every two weeks and a picture collection of over 5000 individual pictures, you are well stocked.
Few words
You may be quick to judge Naked Frat House from the outset but you may be surprised at what you find on the inside. Where rookies learn the ropes from their ass drilling masters, there is always an erotic flare. Their juicy bodies tell of what fucking a fellow male or standing up to shoot cam on camera ought to be like.

OR back to the page
---
OR read more on NakedFratHouse from other popular review sites.