Quick intro
The OceansEastHandjobs is a quite old website, where you can find hot Canadians and United States girls giving hand jobs to lucky studs. The girls in the videos are all really hot, and if you enjoy watching as cuties shake cocks then milk them off, then you are going to enjoy your time spent there.
We can't actually tell you where the DVDs came from but that's not really interesting: if you like one, you can order it from the site. At the time of our review, the videos' number at the OceansEastHandjobs was under 1,000, but that it may have grown since our list visit. No matter what, the collection here is big and considering the niche, it's actually a huge number of porn. Just cock-shaking? Well, this site is on the top of it.
Let's summarize quickly the facts we found so far: the OceansEastHandjobs has a large collection of DVD-originating porn from the States and Canada. So, when it comes to the "What else?" matter, we must tell you that there isn't much else. The only types of bonus content are some video caption galleries, which are considered as bonuses because the site is a videos-only portal.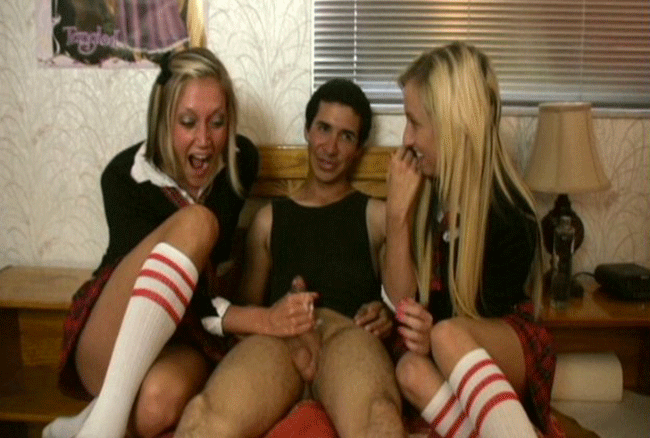 Site design
Sometimes we are just not comfortable with some sites. The OceansEastHandjobs has a tour page that seems to be stuck in the late nineties when the websites looked like this. Nevertheless, it may look hideous at first, you can find a lot of fine tour features: you can find quotations from reviewers too. You also have the option to enjoy samples from the site's videos: you can download trailers. (These clips are usually about 20-40 megabytes). There are photos placed around with some promotional texts under them. To cut it short: you get the idea about the content.
If you give it a try, you can see that (unfortunately) the members' area isn't much different. Now, since the site focuses on one niche only, there are no category tags, and you have to manually browse through the videos. Also, another important note: there are no video streams, which means you may need to take your time and explore the content properly. Download only the videos you really think you would like.
There is no limitation in the usage of the videos, and you can keep them as long as you need them. The video caption galleries are not too great, but considering that most scenes are in HD, you will find these pictures quite nice, even if you don't download them. The OceansEastHandjobs has mostly WMV files, usually at 720p, while older scenes may have lower specs.
The content
On the OceansEastHandjobs, you are going to see the US and Canadian girls shaking hard cocks usually once, but in some case twice or even three times! Credit goes to the makers of this site for the hot chicks, and hard guys who took the siege of these hotties for that long. If you are looking for a porn site with only hand jobs pornography, you are going to enjoy the videos' here, even if the girls actually never get naked. It seems like the content is not exclusive, the scenes come from DVDs, and there is a good chance that the videos here are available elsewhere too.
Nevertheless, the action is what matters, and the girls who do it. Actually, the girls are really hot, and there are usually just cuties and MILFs here, so some of your sex-fantasies will be featured. Most of the models are semi-professionals, and we are certain that some of them were just one-time porn actresses, and quit it soon after these shots. Nonetheless, all of them endeavour to please those guys, and the huge blasts show that they are really successful in this. The majority of the models are Caucasians, only a few blacks and Asian girls appear.
The videos here are mostly scripted and staged. The camera handling and the photography is somewhat amateurish, but the action itself well-featured and quite exciting. We would go as far as to say that the girls here are not just hot, but they are all good cock-busters too. These scenes all tell a story, or at least depict a situation, which turns into a hard hand job scenario. There are some massage parlour stories, but in most cases, it is reality porn, in which real-life like situations go down the "milky" way. You will see the people in the videos having a chat, fooling around, and acting in accordance with their roles.
Don't worry, though, the videos are not all-talk-no-fun scenes, the action is straightforward and hard. Not every video features naked girls, though, so we recommend it to strictly those who are into hand jobs and don't really mind if the focus is on the cock, and not on the girls. The collection features one on one action, but there are several scenes when two girls help one guy out, or when two guys get their cock played with by one hot piece.
Few words
The OceansEastHandjobs has a lot going on, and we are pretty positive that it's going to be one of those hand jobs websites you will add to your list. We recommend that you take a look at these scenes and, while you are inside, download what you like. In fact, downloading is your only option to view the videos.
Since there are only hand jobs here, the OceansEastHandjobs is recommended to only those porn lovers who don't mind if their porn is focusing only on one niche and only on one way to please a man. The update schedule is fine, and though nowadays it's a bit slower, the videos are always exciting, and the resolution really is top-notch. You should become a member here, if for no longer than a month, or until you download everything from the OceansEastHandjobs.

OR back to the page