Quick intro
I was trying to research about the history of the porn industry, and was surprised to know that the first porn movie was made in 1896. This was a seven-minute clip of a movie of a lady, completely naked, entering the bathroom, taking a bath and slipping a towel around her. I also found out that the hardcore porn movies that we see today were first made in 1910, and the same formula has been adopted even today. We have been watching the same old formula since 1910! If hardcore porn has not changed, then why do we have an innate feeling that porn has changed? What is the change that we are talking about? The change is in the way porn is produced, and delivered to customers. Who could believe that porn could be delivered via live cam shows. But then, porn showed us how to do it.
Porn has now added another feather in its cap, with the introduction of virtual reality in the production and delivery of videos. Virtual reality allows you to watch porn in 3D, 1080p full HD quality, 180-degree view range and binaural sound. To experience VR porn, you will need VR gear such as GearVR, Google Cardboard or Oculus Rift. Are there any VR sites that one could visit? Only a handful of them, but one site that I loved was RealityLovers. A VR based porn site, RealityLovers has all the elements of a blockbuster site. No wonder, it is nominated for the 2017 AVN Awards at Las Vegas. Want to know more about this site? Then read further about its design and features and the girls and videos you can enjoy.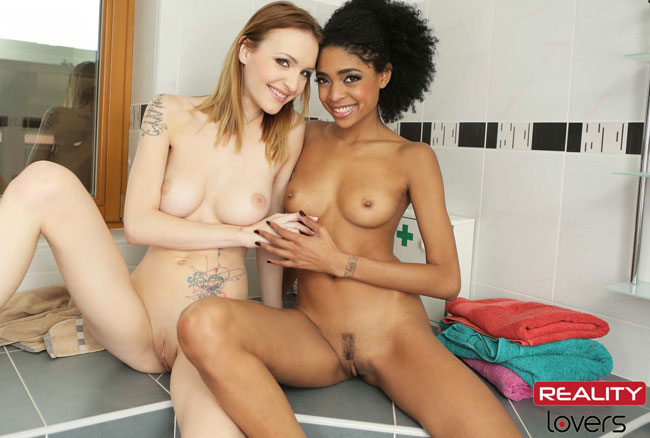 Site design
What is so unique about RealityLovers? There are many things that stand out on this site, such as the colour scheme, the overall layout of the site, the affordability and the quality of videos and sluts featured here. When a site is very well thought-out and executed, it stands tall among equals. RealityLovers stands tall among equals, and has a very beautifully crafted and designed site. It is difficult to describe a site like RealityLovers. It is like describing how sexy a naked slut is. Can you describe her bit-by-bit? Doesn't make sense. But that's reality, and that's how we should do it.
Let us start with something different. RealityLovers is one site that has a Blog page, and you can keep yourself updated with all the latest developments from this site, such as news articles and clippings. Better still, you can sign up for the newsletter and keep track of your favourite porn stars and videos. You can also follow the private lives of porn stars, what they do, what they eat and how they maintain those sexy bodies. The color scheme is professional, with red, grey, white and black for the footer. Grey and red are used alternatively to show the videos.
A trailer, 10 thumbnails, brief description, an appropriate title, a date of release and duration, are available. Each video has a separate page and you can check it out for more information about the porn stars and the other videos she features in. The site updates twice a week with new video releases. However, all this seems insignificant when you watch the two sexy, naked sluts in a sexy embrace, more like two lesbian chicks making love. With their tongues in an embrace and licking, they look lustfully into your eyes. This image is so wonderfully shot and presented that you can feel that lust in you, wanting to fuck the two bitches hard.
Last, but not least, I would like to highlight the affordability of this site. Don't be scared, for this is the most affordable site that you will ever come across. With prepaid plans and recurring plans to choose from, you will be pampered for choice. Prepaid packages are available on a per-video basis and you can pay for one, three or five videos in advance. Recurring plans include a monthly package, a quarterly package or an annual package. Trust me, annual packages are the best, allowing you savings as well as unlimited viewing and downloads.
The content
Let us now check out the chicks featured on this site. You must have got an idea of the kind of porn stars featured out here, based on the two ultra-sexy sluts I described in the previous section. All sluts display a level of lustfulness that is difficult to ignore. If you think we are joking, or playing a prank, you should check out the girls' section in the blog page. When I checked it out, I could not believe my eyes. The sluts were nubile and had the right age to be the most beautiful porn stars ever to grace this site. There are amateurs, MILFs, cougars, and lesbians. On the ethnicity front, the site is dominated by European chicks, but you will also find Americans, Latinas and ebonies. Some have curly hair, while some are blondes, brunettes, redheads and dark haired too.
The sluts have the most outrageously sexy bodies. You have curvy sluts with an hour-glass figure, or chicks with the most perfect breasts and perkiest nipples. Most sluts either have a trimmed pussy or a clean shaven one, with the clean shaven one being the majority. The pink and juicy cunts look amazingly cute and sexy in the absence of pubic hair, and when she spreads her legs, your dick has no choice but to seek the juicy cunt to fuck. Fucking those juicy pussies will make you go crazy, and you would want to shoot your warm cum inside those pussies and watch pussy creampies oozing out of the cunts.
The breasts look like mountains and the nipples like their peaks. Playing with the breasts would be your favourite pastime, and sucking the nipples your favourite hobby. The two mounds have the smoothest complexion and soft flesh that you would want to fondle and grope them at your whims and fancies. The asses are perfectly sculpted and round. Search the entire world, and you will never find such wonderful asses. The assholes are perfect for a hot round of anal sex. The sluts love to take a dick up their asses, while having their juicy pussies licked by a hot slut.
In terms of videos, the diversity is astounding. You can watch voyeur videos, where you are hidden and observe a bitch being fucked in all positions by a hot stud. Another video features an orgy with you as one of the central characters. Enjoy outdoor sex, threesomes or sex in the most outrageous places, and you will cum hard. Are you desperate to jerk-off, watching these videos? Then it is time for you to subscribe. Check out the conclusion below.

In Few words
A truly classy website, RealityLovers is home to the sexiest VR porn on Internet. From the chicks and videos to the affordability of the site, you will not seem to get enough of this site. If you want to purchase an appropriate VR gear, this is the time for you to own one. If you do not want to purchase, then use your smartphone to watch your porn in VR mode. With a blog, newsletter to subscribe to and regular updates every week, this site is a dream-come-true for any porn lover like you. So, it is time you clicked on Join and become a member.

OR back to the page
---
OR read more on RealityLovers from other popular review sites.