Quick intro
The site we are reviewing is called SilverCherryHandjobs. We don't really know what the name means, but the there is no silver, and there are no cherries here, only hot hand jobs, performed by amateurs in quite a professional manner. Those of you who appreciate a good hand job, will certainly value this collection, especially if you also have a thing for cute girls. This website could be also considered as a fetish portal, because there are only hand jobs, and the action is kind of CFNM porn.
You will also see some actual fetishes featured, such as foot jobs and feet sucking. One of the most important benefactors for this site is the fact that the content is exclusive, and it's still coming. These videos are not available on any other porn sites, and we are quite sure that you will enjoy what you can find here. The SilverCherryHandjobs will not overwhelm you with extras… actually, there are none, so you just have the site's content to watch between updates.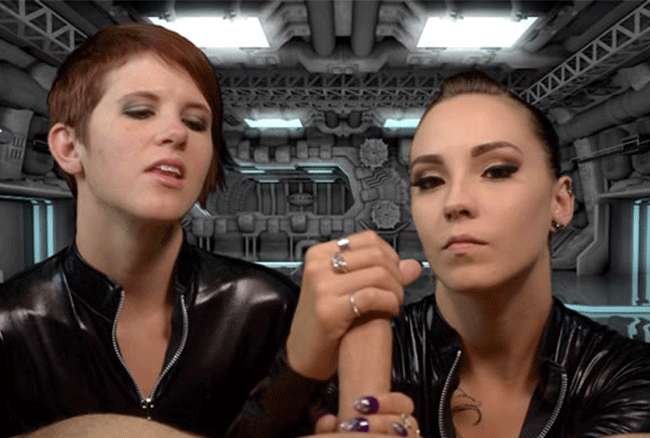 Site design
There are many things to explore during the tour of the SilverCherryHandjobs. You can watch a short clip and you can browse the most recent updates. Though the design and the overall build could be better, we found the navigation just satisfactory. The preview you can get here is enough to make you curious, and it seems that the videos are coming constantly. In the members' zone, the same simple layout welcomes you. You can view the videos page after page. We realized that there is now a streaming option for the most recent videos: click on the download button, and the scenes will open in the browser. This works only for a few videos, as you go backward from the most recent flicks, you will notice that downloading will become the only way to open these videos.
There are some very old shots, which are in SD, and they are on the lower end of the DVD quality. However, as you approach the most recent videos, you will notice that the resolution and the overall quality increases, and even POV shots are added too. There are Full-HD and many regular HD videos here. The SilverCherryHandjobs offers you only WMV video file format, which means you won't be able to play these shots on most mobiles. However, since they are not too long, you can easily convert them after downloading. Also, we notice that the site isn't really mobile friendly, which is quite a mistake from the owners because such short videos could be really popular among mobile users, especially they were streamed.
The content
The SilverCherryHandjobs has a fine selection of porn for you. There are more than 290 scenes on the site, and they all feature different girls, which means over 290 different cuties to show you how to handle your cock. There are several ethnicities represented by the models, and they are all doing an excellent job in jacking off the guys' hard cock. We are quite sure that you will enjoy browsing the videos and, while you are here, you might come to the conclusion that the girls are cuties you would trust with your cock. Well, truth to be told, some girls are somewhat familiar, and they are doing too good a job to be real amateurs.
This isn't much of an issue, though, because the other girls, who are real homely ladies, are doing just as good jobs, and they are just as hot. We have seen mostly US girlies, and they speak English… in fact, they do talk during the scenes, this way teasing your fantasy. When you are in the members' area, you will see a simple page, and you can start to watch the videos right after downloading them. There is no model information, and the descriptions are poor, so you won't really find out anything about the girls, only that they are good at giving hand jobs.
These scenes could be categorized as fetish flicks and as domination videos. The hand jobs themselves represent a fetish: there are guys who like to watch as hot girls please other guys. In most cases, the girls are doing it properly, they use a lubricant and they are doing some related talk (including some dirty talk too). They just shake and shake, and it's quite hilarious to see the look on their face when there are some unexpected explosions. Also, these videos are mostly CFNM scenes, though some topless cock-massages happen, once in a while.
For our surprise, we have seen several foot job videos too, and they were pretty amazing: cute girls who make their man cum with their sweet, soft feet …and they make them cum quite hard. So, there are many fetish niches covered and, even though the action may not be so spectacular like a good drilling, it's well worth watching. Overall, the videos are rather in the semi-professional area, but they are on the higher end, especially the latest ones which take place in nicely lit rooms, and are captured in HD.
Few words
The SilverCherryHandjobs will satisfy your needs for cute girls and cock-shaking. Though the chicks won't get naked for you here, you will certainly enjoy the way they look, smile and talk, while their cute, soft hands do the hard work. We loved them, that's for sure. The site seems to be updated on ad hoc basis, but the last few years' weekly updates really boosted the size of this collection.
Also, it seems they had upgraded their cameras, and the most recent hand jobs are in Full-HD, which is just pretty cool. Though there are no photos, the video captions are quite good. Overall, we would recommend the SilverCherryHandjobs, even for shorter periods, like for a month or two!
"The site is no longer updated, check out the premium masseur porn sites."