Quick intro
Sex between men is still considered taboo for some, which is probably the reason why it is hotter to watch than the heterosexual porn. There is something erotic and arousing at the thought of two hot men sucking each other off, both of them so into it that it does not seem like they are being filmed. UkHotJocks is the site that will give you this type of pleasure in watching gay porn, they have hired the most gorgeous and well-build models to fulfil the fetishes of their viewers, they not only deliver sex between two men, but they also have videos that features threesomes, foursomes, orgies, outdoor sex, indoor sex and many others.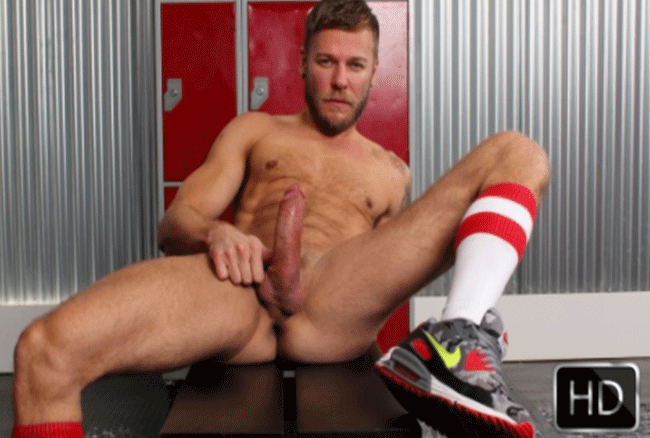 Site design
Once you open the site, the high resolution pictures of their models that are in compromising positions will immediately catch your eye, they also used their most handsome men as their wallpaper. As you scroll you can see the movies that they offer, as of recently they have 25 amazing and high quality movies, that can be downloaded and transferred into you device like your Android phone, Iphone, Ipod or Ipad, they have a user friendly and easy to navigate mobile version that people on the go can use and they also have a fast streaming option for those who wants to use their personal computers to watch the videos.
They also have a brief summary written for each other the movies that they uploaded on the site, they have a movie called Aggro, this features Russian models and this movie is perfect for those who are into rough sex and BDSM; then there is Spanish Milk, it features Latinos and is the movie that is recommended for those who are into outdoor sex; they also have a movie named Grappld that shows 8 jocks that wrestle each other by pair, and you can watch how the sport slowly turns into sex on the ring, and many other movies.
They have 90 gorgeous models too and they are as diverse as they can get, they have models who originated from the UK like Sam Barclay, JP Dubois, Fletch Adams, Anthony Naylor and Nathan Rider, they have Latinos such as Sunny Colucci, Josh Milk and Cory Prince, they also have Americans like Rex Cameron and Hans Berlin. UkHotJocks is not just a porn site that delivers gay sex videos, but they also cast models who want to be a part of their team, they have a link that is located at the bottom most part of the screen and the form can be filled up and submitted by interested applicants.
As a member of the site, you can access 6 other high quality gay porn sites that is associated with UkHotJocks such as CockSureMen, FalconTV, AmateursDoIt, RearStable, FetishForce, SexGaymes, CyberBears and DirtyDawg, you can receive updates from the site via your social media accounts such as Facebook, Twitter, Tumblr and Youtube or you can subscribe to their newsletter so that you can be updated when they upload new contents and organize live shows and live cams, the updates will be automatically sent to your email.
They also have a customer support hotline and email that is available 24/7 and you can contact them anytime if you have questions, inquiries or suggestions regarding your subscription or regarding the site, the link is at the bottom most part of the page and beside it is a help page wherein you can read the frequently asked questions of the site.
The content
This site features gorgeous male models that engage in gay sex anytime and anywhere. In one video the models Austin and Mario hang out at the back of a night club, as Austin was shirtless and was drinking gin Mario approached him and started caressing his arm, he then started caressing his chest and his abs, getting the hint Austin placed his drink on the nearby table and started making out with Mario, touching his biceps and abs as well. After making out, Austin unzipped his pants and took it off, Mario immediately went down on his knees and sucked and licked Austin's eager cock.
Mario switched from handjob to blowjob while Austin held his head and moved his hips so that he can control and feel the depth of his cock down Mario's throat. After he mouth fucked him, Mario and Austin switched places, Austin held Mario up against the wall and pulled his pants down, he then started sucking him off as Mario held his head the same way that Austin did to him, as Austin sucked him off he played with himself, Mario then lifted him and he placed his cock in his ass, he inserted his cock into Austin slowly and when he got all in, he rammed his cock and pounded him, and as Austin moaned and screamed he continued playing with himself.
They then switched places and Austin fucked Mario in the ass, while they were facing each other, he held him close and held his legs to steady his pace. As Austin drilled Mario's ass with his monster cock, he took Mario's cock that was facing him and gave him a handjob at the same time, he then pulled him and inserted his tongue into his mouth and licked his neck and his chest. They kissed each other passionately as Austin thrust his hips to dig his massive cock deeper into Mario's ass, after a few minutes of ass fucking and switching, they both pulled out and jerked off, spraying their cum into each other's stomach.
Few words
UkHotJocks is a gay pornsite that features men from the UK, their models are muscular and hunky men that can perform as both tops and bottoms. Their videos are all in high definition quality and the audio is so clear that you can hear their moans, grunts and screams perfectly. All of their storylines are fresh and erotic.

OR back to the page
---
OR read more on UkHotJocks from other popular review sites.