Quick intro
Bangbros is one of the most recognized porn networks in the internet world. They've created so many legendary sites such as the Bang Bus. As of today, they are still generating new films, photos and sites that will gratify your evening pleasure. Rumors has it , they will provide you an affordable deal that you and I won't resist.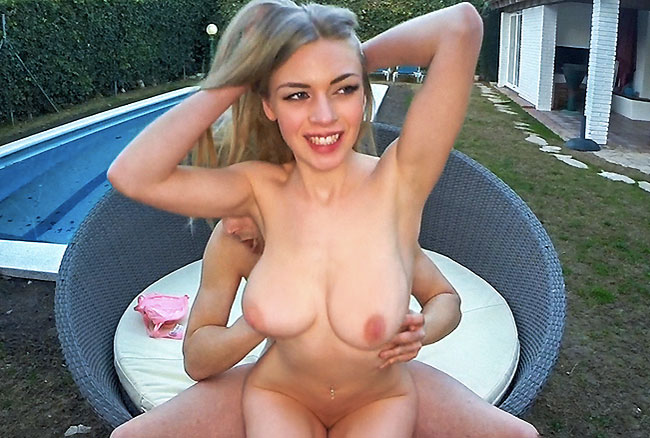 Site design
As I check out the site, my eyes were caught because of its numerous list of updates. My dick becomes hard as a rock seeing Uma Jolie being banged by a dude. With her picture perfect face and sizzling body, my cock is fully stimulated and increases my sexual urge immediately. The network itself is spanning dozens of niches like MILF, ethnic, titties, fresh chicks, amateurs and famous porn stars. At this moment, the network holds 43 exclusive sites to be exact. These updates will be distributed and add up to the world of content according to their niches. There are plenty of actions and chicks that you can choose from blonde, brunettes, Asians and African American. The videos are presented at the homepage in thumbnails. Some are presented in GIF forms that feature ass fuck scenes.
You are allowed accessing over 7,000 videos that are 30 to 40 minutes each. That's a lot of bang actions. I think those are more than enough if you are planning a one year membership. These banging actions are available in multiple video formats. You can watch them on streaming or downloads according to your preferences. Keep in mind that the archives are not as good as the latest videos. These low quality videos are natural and forgivable since they were made 12 years ago. But anyhow, why do you have to keep your eyes busy to those archives if the network is frequently generating dozens and dozens of new videos every week? Bangbros has 7,000 plus of galleries. Most of the photos are taken from the actions available.
Each gallery has 140 – 150 photos that can be transferred to your computer or mobile devices once you become an official member of the network. One of the nicest things prior to the design and layout is that the site allows you to browse different actions. You can search according to your pleasurable inclinations like the title of the video, porn stars, and fuck scenes. The search page will produce the things you need in a categorized form. But, if you want to explore more, you can just keep on scrolling down and discover the actions that you might want to see. As noted, there are so plenty of actions included such as ass fuck, pussy licking, solos, dildos, and blowjobs. One thing I noticed about the actions – there are no girl to girl or lesbian sensual scenes. Silly me, the name of the brand is Bangbros. (Bros. for brothers) duh! So, I guess that the network concentrated of the niches they offer according to their brand. There are lots of enormous white and black veiny cocks by the way.
Another big plus I wanted to mention is that all the recent movies available at the homepage are in a whole host of options for streaming and download. You have 5 different types of choices. For quick streaming or download, you can go from low resolution SD to mobile files up to the great looking quality videos in HD. Also, I would like to tell you that the sets and the productions are top notch professionals.
The content
All the videos and images that you are about to see once you become a member are highly exclusive. This means that you won't find these actions anywhere else but here at the Bangbros. porn site or from the entire network. There are lots of scenes that will make your night awesome. As the name implies, there are lots of banging going on from ass fuck, pussies and fuck faces. Of course, when there are blowjobs, there will be facial cums. You will see some of the most sophisticated and nasty fuck scenes online. There are busty beauties that will make the most out of their big boobs and there will be lots of dick sucking bitches.
The site features so many picture perfect faces porn sluts like Uma Jolie. See her slender body, boobies, and her hairless beaver getting banged. Uma is indeed a great performer with her amazing eyes and her seductive smile. If you want to see a fucking hardcore cruelty, you can't go wrong with the Monsters of Cocks scene. To tell you honestly, I've seen so many dicks when it comes to reviewing or assessing several porn sites. But, the dick you are about to see in this certain video is so damn huge. It's like a dick injected with fucking steroids that will bang this poor black bitch ass, pussy and face. It's mean, nasty and black fucking machine.
The bitch will open her mouth and try to suck it in, but It seems like this huge dick can't fit. So what she did is try to milk it for a while and suck those balls instead. The guy with huge cock can't handle his animalistic side so he decided to bang the girl from behind. With that so huge, I guess that this girl can barely walk after the scene.
In Few words
To wrap this one, I want to say that there is not much to complain about the site and to the entire network. With so many beautiful models, lots of actions and the design, what a guy could ask for? The site indeed provides rare combinations of banging that will make the most out of your buck. So, whether you are a fan or not of the network, I strongly believe that you are going to stay in the network in the long run.

OR back to the page
---
OR read more on BANGBROS from other popular review sites.