Quick intro
On the Mature, you can find the ultimate collection of hardcore porn videos, which focus on the ladies we all love: moms, cougars and grannies. As the site name tells, you will find here mostly matures, who seem to enjoy what they are doing. This is a quite kinky hardcore website, and the models you can see in the videos are really hot, though they are not the freshest. The Mature is an actual mega-site which has a collection consisting from different sites/series' videos. We are positive that you will like this bunch of hardcore and softcore material, especially if you enjoy watching hot ladies showing their body. This compilation portal provides exclusive content by the way, and these videos and photos are not accessible on any other porn sites, only on those that belong to this company.
They keep adding new content two or even three times a week, though the site itself is quite old: it launched in 2001. If you become a member, you get access to 15 years of more than weekly updates, so you get a lot to enjoy. Exclusive content and regular updates are always good selling points for us, but we also took a look on the actual content, and we were amused. There are circa 6000 videos in the member's area, and just as much photo sets too. These sets are real photos, so they represent another big area of content you should explore. As a member, you also gain access to some extra content. For example there are many sites listed as bonus website, which you can open straight away, or subscribe for at a highly discounted site. There are 3D videos too, for those a simple 3D glass (the cheap, paper-made one) is recommended. You will find the regular bonuses included too, such as discounts to other sites, and live cam shows. So, apart from the huge collection of the site, you can enjoy other types of pornographic videos too.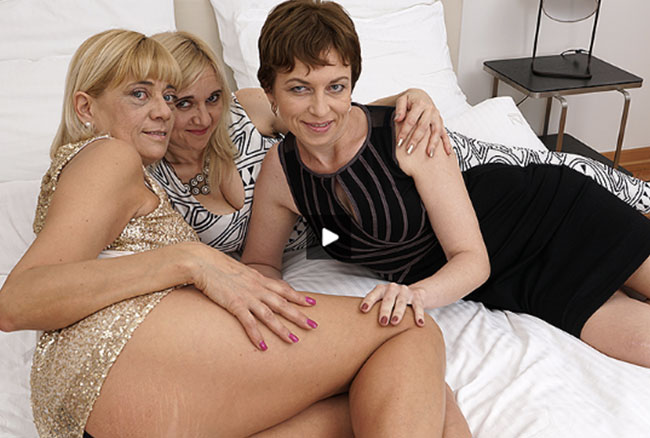 Site design
The Mature has an interesting, custom-built home page. It's a good thing that they build up this site without using the same old templates we've seen on many other portals. You will find it out quite soon that the site has a lot to show you, and it's going to be a good ride. The tour you can take on the Mature is not much, but it's satisfying enough. We truly believe that you will love to browse this site, as the tour has a trailer, lots of big pictures listed, and it also shows you what you can expect from the inner section. This blue color theme may look a bit weird, but you will get used to it, and you really should, because the inner area has the same design. When you enter the Mature, you spend some time with exploring, especially if you are into hot matures. So, it you feel that the tour was convincing enough, you should head for the members' area, where the real fun can begin. We have to say that it's not an advanced website, but it has some comfortable options, so it's a bit easier to navigate through.
The menus are located on the top and on the left of the page, and here you can find everything you need to find. The upper menu features the list of the models, the niches, and the links to the bonuses, such as the 3D videos and the cartoons. That's where you can find your favorites too. The side-menu has nearly the same options, including the niches list (anal, asslicking, etc.), a list of the company sites and the specials, such as HD streams and DVD movies. A quite basic search engine can help you a bit in finding your way around the site. The site has streaming videos, usually coming in standard definition, and they offer a fine playback experience. If you prefer to download your videos, you can do so quite easily. There are multiple file formats for you, such as the usual WMV and MP4.
The content
So, here we are, browsing through a site that focuses on older ladies. Well, it's a fine experience, but the best thing we have to say about the site is that it has a lot of amateur women. And it's also a highly varied collection, so you can expect to find here a bunch of American and European ladies too. Even among women of the continents, you can find a fine variety, since Russian, British and a few other cute women are featured here too. There are some 30-something MILFs among them, but the majority of the ladies are coming from the over 40 areas, so they are fine grannies and real matures.
The actual content of the site is semi-professional too. The scenes and the matching photo sets usually contain softcore material, such as masturbation and some licking and kissing. Surprisingly much ass-licking takes place, it's probably a fetish for the guy who makes these flicks. There are some interviews taking place, but after those, the girls get on with their show. Fortunately for those who are into this kind of women, the site has a collection of actual hardcore videos with good pounding in them.
Few words
The Mature is an old, but really hot website, and it has everything a good porn portal need. There are hot women, good, yet a bit amateurish sex and more goodness coming in regularly. When you enter this portal, you will find yourself in front of a large, and certainly exciting collection, and though the major content is softcore, those who have a crush on older women will surely enjoy these videos. Explore the content, and tease your eyes with these fine HD flicks.

OR back to the page